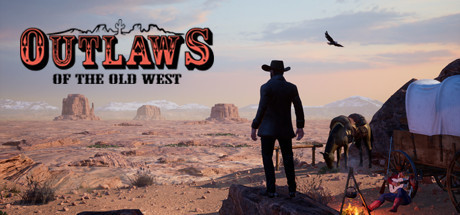 Remember when I said here that I absolutely LOVE video games? Well,Outlaws of the Old West dropped on March 12th. I bought it as soon as it became available on Steam. 😀 It really looked like it would be a rival for HEAT. I'm still on the fence about that. I like both games. HEAT has things that I love, but then it has some features that I absolutely loathe. The same goes for Outlaws of the Old West. Now, if I could merge both games together somehow….perfection!!!! Nah, I'd still find something wrong. 😉
What I love about Outlaws of the Old West so far:
food and water troughs!!!
wagons
gun selection
mines
bandits
Outlaws of the Old West did all of these pretty well, with the exception of the troughs. There are metal troughs that are meant to automatically feed and water your horses that are close enough. Which brings me to my list of cons…
What I don't like about Outlaws of the Old West so far:
metal water trough only auto waters/feeds when first placed for me
building isn't as good as I had hoped – can't build certain things when you have all the mats until you build something else first to kinda clear the queue or something
I get stuck in walls and rocks and floors NON-freaking-stop and have to suicide out
right now my tier 1 mine is broken
not even remotely close to enough decor items (like missing hundreds of items)
leveling after like level eight or nine is soooooo slow
So, that's my succinct first impression of Outlaws of the Old West. So far it's pretty fun, but it will die quickly if they don't fix some of these game breaking bugs/issues. I will probably do a follow up after a few more updates. If you're playing, I'd love to know if you agree with my lists!
♥ Danica